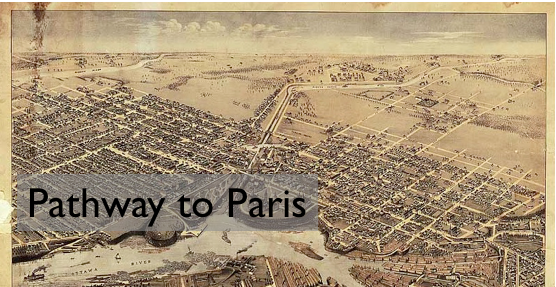 Pathway to Paris #18: The virtuous cycle has begun
About this service | Subscribe to this briefing  | Contact the editor
The structure of the UN Climate Talks needs to be redesigned 

INDC's show reduced emissions from energy by 2030

Negotiations in Bonn (#Bonn)

How can Canadian cities achieve a low carbon future

The virtuous cycle has begun 

Vote for your Climate Future 

High polluting HFC's 

SSG webinars on emission modeling, district energy and rewilding 

Featured network:

 

The Coalition Climate 21
"I will if you will": The structure of the UN Climate Talks needs to be redesigned
The science of cooperation is being ignored in favour of self interest, say University of Cambridge, UK, University of Maryland, U.S, and University of Cologne. Having individual commitments rather that agreed standards, such as setting an agreed global price for carbon, favours a more chaotic and unaccountable structure. Through the nature of peer pressure, states are more likely to aim higher and commit of the onus as shared.
Pledges from national governments give promise to reduced emissions from energy by 2030 says IEA
The International Energy Agency embraces the national pledges (INDC's) that show emissions from energy will be greatly reduced by 2030 at 0.5% per year. Almost half include an energy-specific target, commonly an increase of renewables' share in the energy mix to 25% (it is round 20% today), increase share of natural gas, a decline in coal and gas useage and also improved energy efficiency.
Canadian cities explore additional measures for achieving a low carbon future
A new research report by Associate Member Ralph Torrie, "Low Carbon Futures in Canada: The Role of Urban Climate Change Mitigation" explores Canadian cities' commitments to urban GHG emissions reduction efforts and outlines concrete opportunities for further action, including shifting focus beyond energy and enlisting federal support for these initiatives. The report was written with support from Bloomberg Philanthropies and Stockholm Environment Institute.
The virtuous cycle has begun
"It has never made less sense to build fossil fuel plants". Despite the projected decline in new coal power plants in China, what is really waking people up this week is the shift in the capacity factor in the US. The capacity factor is the percentage of a power plant's maximum potential that's actually achieved over time. This tends to be low for solar at just 20%. However, as solar and wind are cheaper to produce, (with wind providing the cheapest electricity in UK and Germany even without government subsidies, the first from a G7 economy), more producers are waking up to the marginal costs of fossil fuels in comparison to renewables. Natural gas has  a 70% capacity factor but has high costs of production.
Vote for your Climate Future
Friend of SSG Liz McDowell shared on the morning of the Liberal election results: "It's not going to be easy to push the Liberals to keep the promises they've made on climate, pipelines, changes to bill C-51, an inquiry into Missing and Murdered Indigenous Women, implementation of the Truth & Reconciliation commission's recommendations and, finally, on electoral reform, but I'd like to believe it's possible." SSG will be working hard with provinces to make sure this is possible.
              What kind of change is necessary?
On October 30th, 10:00am-12:00pm PST / 1:00pm-3:00pm EST, a diverse group of scholars from the Sustainable Canada Dialogues will discuss what, how wide and how deep do we need to go to successfully mitigate and adapt to climate change. The panelists for this upcoming conversation include:
Professor Ann Dale, Professor Catherine Potvin, Dr. Normand Mousseau, Professor John Robinson, Dr. Meg Holden, Dr. Sarah Otto, Dr. Anthony Perl, Dr. Aerin Jacob,
To find out more about the genesis of this and to register, click  here
Negotiations in Bonn
The working group on the Durban Platform for Enhanced Action Work has edited down the paper from 76 pages to 20.  Here it stands now, with a call for a "step change in the pace of negotiation", say the co-chairs.
The section under Articles will resemble the final agreement signed in Paris. The same key issues are still there: adaptation, mitigation and finance.  For mitigation, which includes cycles of 5 year commitments, decarbonization and an acknowledgement for more ambitious pledges; for adaptation, campaigners are relieved to see 'loss and damage' included, the issue of how developed countries help vulnerable nations deal with the now-inevitable impacts of climate change.
What is missing is ambition:  a ratchet and review process for pledges to go beyond 2oC, a zero emissions goal and the removal of financial targets that were in the previous drafts.
Forget carbon, what about the increase of high polluting HFC's?
Hydrofluorocarbons (HFCs) were developed to replace ozone-depleting substances for refrigerants, as solvents, in fire protection and in insulating foams. They are the fastest-growing GHGs in much of the world, increasing at a rate of 10–15% per year. They are so potent that their warming impact is up to about 3,000 times that of carbon dioxide. Replacing HFCs with greener refrigerants has low upfront costs and can result in energy efficiency improvements of 10–50% or greater when the best available technologies are applied, leading to net savings via electricity bills. The New Climate Economy asks countries to approve an amendment to the Montreal Protocol to phase out production of HFC's, that would prevent 1.7 Gt CO2e of greenhouse gas emissions per year by 2030 (more than the current annual emissions of Japan).
SSG webinars
In the autumn crunch, we are a hive activity here at SSG and are keen to share our work and our resources with you. We have the soft launches our of emissions and energy model, CItyInSight, and our district energy model, Plan4DE, plus work from our Associates.
Here are our November and January webinar descriptions and registration links. You can also listen to those you missed. We will be taking a webinar break in December whilst at COP21 Paris for the UN Climate Talks.
Featured Network: The Coalition Climate 21
The Coalition Climate 21 includes more than 130 organizations from civil society, labor unions, associations of international solidarity, faith groups, NGOs defending human rights and the environment and even social movements. They have come together out of a concern that the negotiations are simply not enough to affect climate change, as has been shown in previous COP sessions. With the attention on COP21, they ask citizens to mobilise for climate justice.
https://www.ssg.coop/wp-content/uploads/2015/05/Screen-Shot-2014-10-23-at-18.33.58.png
287
556
Jeremy Murphy
https://www.ssg.coop/wp-content/uploads/2015/01/ssg_logo-e1677266550975.png
Jeremy Murphy
2015-11-02 06:12:03
2019-08-07 09:48:29
Pathway to Paris #18: The virtuous cycle has begun