The UK co-operative movement pledges to be fossil fuel free by 2030
Co-operatives UK, the membership body for cooperatives, made a pledge for it's members to be fossil fuel free by 2030. The pledge occurred in the course of a session on sustainability at the National Congress 'Co-operation: Now' in Birmingham Town Hall. Co-operatives UK will work with members and partners on the action plan for this year.
"Co-operatives operate on a set of seven democratic and community-serving principles, said Petronella Tyson of SSG, "and this commitment to substantively address climate change reflects those principles." Petronella Tyson helped to set the stage for the session on co-operatives and sustainability at the Congress. SSG is a workers co-operative of community planners for climate action, who have been working closely with the International Cooperative Alliance.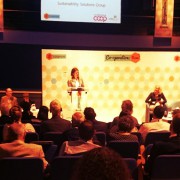 Co-operatives UK joins other leading networks such as the C40 Cities, We Mean Business global coalition and recently Europe's six largest oil and gas companies, with ambitious efforts to address climate change prior to the UN COP21 Paris talks in December.
The announcement on climate change was accompanied by pledges to support youth networks, to enhance educational efforts on sustainability and co-operativism, to expand the network of renewable energy suppliers and finally to launch a sustainability network that will support and challenge cooperatives on their path toward sustainability. It joins successful outcomes of last years Congress, including the wide adoption of the Fair Tax Mark.
"We look forward to supporting co-operatives in the UK in their efforts to reduce greenhouse gas emissions and advance sustainability" continued Petronella. "We believe sustainability is in the DNA of co-operatives."
The UK's co-operative economy is worth more than £37 billion. There are over 15 million members of co-operatives, making it one of the largest membership movements in the U.K. SSG is a workers co-operative consisting of urban planners, engineers and management consultants focussed on climate change mitigation and adaptation. SSG works with the International Cooperative Alliance on its Sustainability Advisory Group.  Last year, they released a report on the role of co-operatives in addressing climate change at last year's UN Climate talks in Lima, which will be the basis of the Cooperatives UK sustainability plan.
-ENDS-
Contact
Petronella Tyson
petronella@ssg.coop
+44 7950 808224
About Cooperatives UK
Co-operatives UK is the network for Britain's thousands of co-operatives. It works to promote, develop and unite member-owned businesses across the economy. From high street retailers to community-owned pubs, fan-owned football clubs to farmer-controlled businesses, co-operatives are everywhere and together they are worth £37 billion to the British economy.
www.uk.coop / @CooperativesUK
About SSG
SSG is a workers cooperative of inspired problem solvers working to address our complex climate and sustainability challenges.
www.ssg.coop / @SSG_News
https://www.ssg.coop/wp-content/uploads/2015/07/Screen-Shot-2015-07-01-at-11.21.47.png
545
833
Jeremy Murphy
https://www.ssg.coop/wp-content/uploads/2015/01/ssg_logo-e1677266550975.png
Jeremy Murphy
2015-07-01 06:25:40
2015-07-01 06:32:42
The UK co-operative movement pledges to be fossil fuel free by 2030