Our monthly newsletter on news and inspiration at the nexus of sustainability
This month we decided to run a review of where SSG is at and what we have learnt over the past six months from the diverse projects we have completed, and ones we have started. Extreme weather planning for farms, to greenhouse gas inventories to Brownfield guidebooks and e-dialogues. The content got a bit long, so we've kept it to a few examples, and next month we'll include more. Please let us know your feedback and thoughts.
[Recently completed]
"Cold what cold. People like to walk in Yellowknife"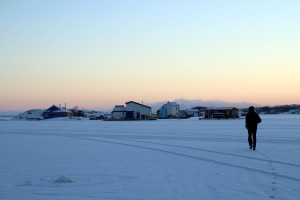 First GHG Inventory in Canada to use the GHGProtocol for Cities
This year we completed a GHG Inventory Report for the City of Yellowknife. The project involved developing a ground-up GHG and energy model for the City of Yellowknife based on land-use and other assumptions to develop a business as usual scenario, the first inventory that we know of in Canada to use the GHGProtocol for Cities. The City spent an estimated $140 million in 2014, approximately $19,800 per household. One remarkable fact about Yellowknife is that 13% of all trips are by walking, an exceptionally high mode share for cities of this size. In part at least, this statistic is a function of the City being a compact community.
The imperative for significant reductions in Yellowknife is enhanced by a high cost of energy and the impact of climate change on the North. For example, when reduced water volumes in the rivers require increased use of diesel generators with additional financial costs and much higher GHG emissions. Keep following Yellowknife community energy efforts here.
"Reframe the discussion from climate change to being about costs of damage and insurance."
Cowichan Valley Agricultural Extreme Weather Strategy
The CVRD Area Agricultural Plan aimed to understand the current state of practice with respect to planning for the impacts of extreme weather and climate change and strategies that could be used to improve that practice. As recently as 50 years ago 85% of Vancouver Island's food, from vegetables to berries and dairy, was produced on Vancouver Island. The Cowichan Economic Development Commission estimates that the Cowichan Region currently produces about 18% of its total food needs. The area being actively farmed has dropped over the last three Census periods from 13,996 hectares in 2000 to 10,837 hectares in 2010. One interesting observation was, "it is felt that farmers have a culture of self-sufficiency and survival – each farm deals with whatever challenges it faces." One conclusion: in order for action to be taken, the extreme weather impact discussion needs to be reframed from being about climate change to being about costs of damage and insurance.
City of Thunder Bay
The City of Thunder Bay has developed a Climate Adaptation Strategy, with the goal of building community resilience to reduce the risks of climate change. The City is currently following ICLEI Canada's Building Adaptive & Resilient Communities (BARC) Five Milestone Framework to assist with the development of the Adaptation Strategy. The City has completed Milestone 1 and 2 and we were hired with Arbora Management to complete Milestone 3, which involved an extensive and collaborative process with the City and the community. The most significant challenge, however lies ahead, with the process of implementation. The City of Thunder Bay has shown leadership in recognizing the impacts of climate change and making a commitment to continue to adapt to them, thereby reducing vulnerabilities, building resilience in all departments, and minimizing the severity of the emerging impacts of climate change.
Implementing this Climate Adaptation Action Plan serves to do just that.
[We're working on]
"A healthy social life is found only, when in the mirror of each soul the whole community finds its reflection, and when in the whole community the virtue of each one is living." ~Rudolf Steiner
City of Kingston Municipal Energy Plan
The City of Kingston's Municipal Energy Plan provides a unique opportunity for the City to explore its energy future through comprehensive energy modelling, and to see what the implications of different policies and actions are on future energy costs, employment, mode split, and GHG emissions. Integral to this process of exploration is a comprehensive program of community and stakeholder engagement. Kingston's Municipal Energy Community Engagement Plan offers a step-by-step approach to community engagement and outlines the overall schedule / workplan, roles and responsibilities and key contacts in the City. The engagement process includes participatory mapping, crowd-sourcing ideas, and dynamic events. Stay tuned!
Pathway to Paris
If you haven't already, please do subscribe to our biweekly climate briefings Pathway to Paris to empower municipalities, counties and regional districts in transitioning to a low carbon existence.
Some of you may have heard the benefit gig we are also jointly organising for 350.org during the Paris COP21 talks in December. Tickets will be on sale soon, and to hear more about the line-up, see here.
[Books]
Community Vitality
Community Vitality: From Adaptation to Transformation explores key themes on what makes a community vital, why vitality is important and how vitality helps inspire and guide critical shifts towards thriving, resilient and sustainable communities. This book is the first publication from SSG's Office of Research in collaboration with Professor Ann Dale. The book at $29.95 is available from the Royal Roads University Bookstore.
The Cooperative Advantage
Written by Ed Mayo, who heads up Cooperatives UK, this book looks at the shift in entrepreneurialism to "collaborative entrepreneur" and how this is pushing innovation with 62% of businesses across Europe saying a quarter of business revenue is now due to collaboration around product and service innovation. For more information, read Ed's post here and the book is available to buy here.
[SSG News]
Our latest Associate Members
Over the past few months, we have welcomed some spectacular additions to our Associate Team. Here are a couple who we asked why they wanted to be part of SSG.
Chris Strashok
"I think I can be a great in house resource for facilitating the use of the GHGProof model"
Chris joins us as an Associate with WhatIf Technologies, our partner on the GHGProof model update. He has developed systems simulation models from project launch to end user delivery as lead simulation designer for a diverse range of clients using whatIf? Technologies' software suite. A researcher and instructor in the School for Environment and Sustainability at Royal Roads University, Chris works on developing creative and interactive ways of modelling the dynamics within systems to share feedback about the space they are operating in and cultivate a culture of deep knowledge and collaboration.
Josh Van Loon
"I have a strong professional interest in the work that SSG does, and feel that I have a skillset that would be complementary to that of the SSG team. I also value SSG's structure as a workers cooperative, and have been impressed with the team members that I have met so far."
Josh is an urban planning practitioner and researcher with expertise in planning for active transportation, and a focus on vulnerable populations such as children and older adults. Josh's current interests are focused on developing the knowledge base and practical tools necessary to implement health supportive transportation and land use planning. As Research Manager of the UBC Health and Community Design Lab, Josh led the development of the 2011 Vancouver Walkability Surface, and managed several research projects in Metro Vancouver that examined interactions between land use, travel behaviour and health outcomes.
[Events]
Mark your calendars for our first Associate Webinar: Thursday 10th September 13:00 EST
Register here for 'Strategies, tools and tips for meaningful community engagement in British Columbia'
Lindsay Telfer, Associate of SSG and National Project Director of the Canadian Freshwater Alliance will share an engagement methodology she has developed to broaden and deepen freshwater engagement across Canada. In describing the approach she will reference case studies of her recent work building engagement for the new Water Sustainability Act in British Columbia and driving collaborative engagement around solving Lake Erie's toxic algae problems.
Here is the link again and hope to see you online!
Vancouver Associate Member meet-up
At the end of the month, our Vancouver hosts will be inviting Associate Members to meet one another and share our updates on our activity for Paris in December. If you are interested, please contact Jeremy.
https://www.ssg.coop/wp-content/uploads/2015/04/140404_NC-Bay1.jpg
1368
1708
Jeremy Murphy
https://www.ssg.coop/wp-content/uploads/2015/01/ssg_logo-e1677266550975.png
Jeremy Murphy
2015-09-09 09:01:48
2015-09-09 09:01:48
SSG Summer 2015 review