Pathway to Paris #16: Three steps to low carbon cities: finance, effective planning, appetite
A biweekly climate briefing for municipalities
In this Issue #16
How do we ensure cities are low carbon?
Clean energy grows and grows in Canada
Talk of the Cities
Downtown is sought after for both living and working
Are wealth indexes an accurate measurement of wealth?
Should local government also own and manage our energy supply?
Tickets are on sale for our 350.org gig in Paris (and selling out fast!)
Different approaches to climate action in Paris
Featured network: Local Climate Leaders Circle
Now that more people are seeking a compact city-life, how do we ensure cities are low carbon?
The latest report from New Climate Economy highlights policies and actions required to enable the transition to low carbon cities. Financial initiatives, essential monitoring tools and an appetite for walkability (as the article following this proves) are making the compact city popular again. Migration to cities is also increasing, for example by 2050 800 million people are expected to urbanize in Africa's Sub Saharan region alone. So, how we can high carbon development be bypassed to manage this rapid urbanisation in a low carbon way?
Clean energy grows and grows in Canada
A report by Clean Energy Canada reported that the value of new clean energy projects, (mostly wind and solar farms, and large and small hydroelectric plants) approached CAD$11 billion in 2014. This is up 88 percent from 2013. Canada's clean energy industries were together responsible for 26,900 direct jobs; also up a respectable 14 percent over the previous year.
Talk of the Cities
A network of cities have paired up under the EU-Canada Urban Policy Cooperation to support each other on policy and ideas related to three key themes: resilience and adaptation, ecosystem services, and low-carbon development. Supported by ICLEI, the four city pairings will meet in October for a tour starting in the European Green Capital 2012 Vitoria-Gasteiz, where representatives and stakeholders from Canadian cities Edmonton, Saanich, Ottawa, and Halifax will be hosted by their European partners.
Downtown is sought after for both living and working
Research from Fitch , an urban think tank, and Smart Growth America, indicates that residential and commercial inner city property prices are skyrocketing. "Updated urban planning that focuses on walkable cities, improved transportation networks and green space has improved the urban quality of life, drawing in multitudes of residents, who, in prior generations, aspired to stretches of lawn in the less dense suburban and exurban rings." (U.S. RMBS Sustainable Home Price Report (Second-Quarter 2015 Update, pg 4)
This is good news for the "dyed-in-the-organic-merino new urbanists" who campaign for less sprawl, and more compact, walkable urban development. American companies are also noticing a shift in values in the younger, economically active generation who prefer to walk, have access to green and multi-functional spaces, with convenient services and cultural amenities. There are also positive brand associations of being on the pulse, connected along the value chain of suppliers, partners and customers, and showing responsibility for the care of the city that supports companies' reputations.
Are wealth indexes an accurate measurement of wealth?
Bhutan is 170th of 194 in World Bank wealth ratings, yet it is challenging global assumptions of wealth and pressure for economic growth. Buddhist laws, a high Gross National Happiness Index, preference for electric vehicles, and an abundance of micro-hydropower electricity generation are putting the World Bank rating in question. Though claimed as a role model by Climate Tracker the Prime Minister, in setting the expectations for COP21, disagrees, "I feel that calling Bhutan a role model is not appropriate, every country has their own sets of challenges and their own sets of opportunities – Paris has to be about individual countries balancing their opportunities and constraints."
Should local government also own and manage our energy supply?
In Pathway to Paris, we like to feature solutions from different cities, regions and countries to offer buoyancy to what can sometimes seem unattainable and far off. This month we see the launch of the local authority-owned, not-for-profit energy company Robin Hood Energy in Nottingham, England. The city hopes to sign up 10,000 customers a month and save them each up to £237 a year on bills. The company uses energy generated from the city's incinerator, solar panels and waste food plants, and will also buy gas and electricity from the market. It is managed locally and offers a competitive energy price for the customer. Bristol City Council is hot on the heels with plans also to launch Bristol Energy in October this year.
At long last: tickets are on sale for our 350.org gig in Paris (and selling out fast!)
After another mention in Rolling Stone Magazine this month as an example of humanitarian efforts ahead of COP21, Pathway to Paris tickets were released earlier this week and are available from here
Different approaches to climate action in Paris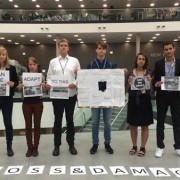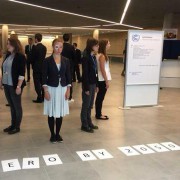 Social media, blog posts, films, petition sites – as we enter the last stretch of the year towards Paris civil society is reaching out and attracting attention to the climate talks in December.
Over the summer, thousands of climate activists descended upon the largest source of CO2 emissions in Europe: the RWE Garzweiler open cast coal mine. Klima Camp was set up, inspired by the UK Climate Camps of 2006. The event attracted global attendance, with stories and knowledge shared by attendees from 45 countries. This piece of prose describes the culture and activity of the camp in detail.
In addition to the People's Climate March on November 29th, some are joining forces to address how they travel to COP21. The People's Pilgrimage encourages people to report on their travels in honour of climate action. A close friend of SSG Deasy Bamford, has started her own Wake Up Walk for Climate Change with two other grannies walking from Bristol to London, and perhaps onto Paris. DoNation, also a friend, has asked people to pledge their travel and are encouraging people to cycle.
Featured network: Local Climate Leaders Circle
Twelve mayors have been selected as climate action champions from the US to relay knowledge and best practices to other local climate leaders, policy makers and city workers. They are working under the guidance of the Compact of Mayors to build on COP21's international agreement momentum.
https://www.ssg.coop/wp-content/uploads/2015/09/turbines.jpg
600
1063
Jeremy Murphy
https://www.ssg.coop/wp-content/uploads/2015/01/ssg_logo-e1677266550975.png
Jeremy Murphy
2015-09-21 08:50:58
2015-09-21 08:50:58
Pathway to Paris #16: Three steps to low carbon cities: finance, effective planning, appetite