Join Us For Our Summit: Cities Taking Rapid Climate Action Now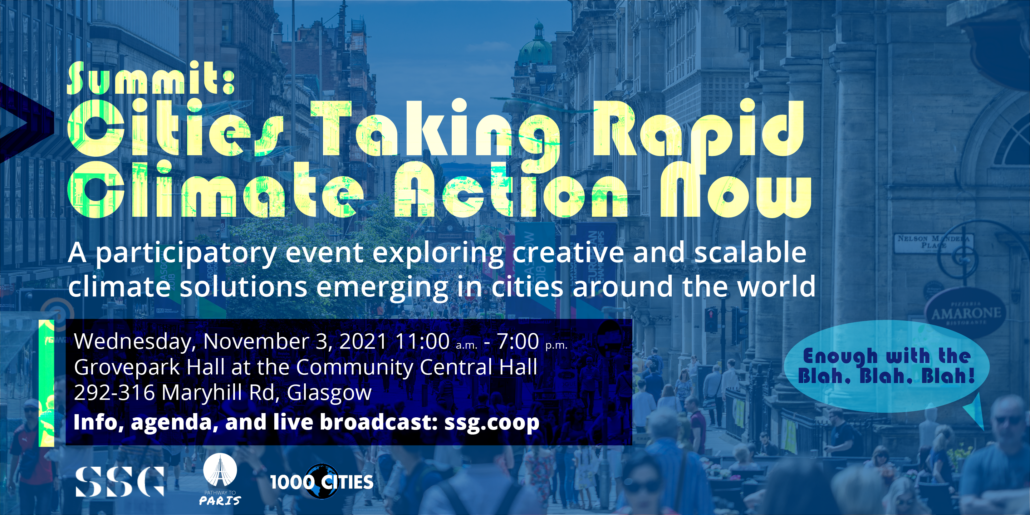 Enough talk! It's time to act. Join us on Wednesday, November 3, on the sidelines of COP in Glasgow to explore how cities are quickly and effectively moving from planning to implementing climate action. Our Summit—Cities Taking Rapid Climate Action Now—will bring together urban climate action leaders to explore what more municipalities and local governments can do to accelerate climate action. To register to join us in-person or virtually, sign up for a ticket on eventbrite. More details about the event, including the speakers and schedule, are provided below.
Lunch and snacks will be provided to those attending in Glasgow. The event will end with a reception featuring special musical guests.
The link to the online livestream can be found here.
All attendees must provide proof of vaccination or a negative COVID test taken within 48 hours of the event.
Summit Overview
As the impacts of climate change accelerate, cities must urgently move from declaring climate emergencies to taking climate action. Join us for a series of panel discussions and participatory problem-solving sessions in which we will hear from cities that have effectively moved from planning to implementation, as well as urban climate action experts from Sustainability Solutions Group and beyond. We will explore transformational moves, as well as creative and scalable solutions, including carbon budgets, rapid multi-building retrofits, andclean air zones. We will learn about what is effective and working, and discuss how to create an accelerated response to climate change at the local level.
A special focus of the Cities Taking Rapid Climate Action Now Summit will be 1,000 Cities for Carbon Freedom, a project and report focused on climate action best practices from UK Cities.
Summit Schedule and Speakers
Panel 1: Carbon Budgets: Accounting for A Net-Zero Future

Time and format: 11:00am UK time, in-person and live broadcast
Overview: This panel will explore how cities are using carbon budgets as an accountability mechanism and tool to align municipal and community actions with climate action goals. Come and gather insights into how you can implement a carbon budget in your community!
Speakers:
Andrea Fernandez, Director of Climate Planning, Finance, and Partnerships, C40
Andrea Fernández serves as C40's Director of Climate Planning, Finance and Partnerships. Andrea is responsible for overseeing C40's climate planning, finance programmes and driving new strategic priorities and partnerships. Before joining C40, Andrea worked as a consultant at Arup for 11 years. In this role, she led high-profile engagements related to sustainability and climate change in the urban environment, with a focus on policy, funding, governance and delivery strategies.
Yuill Herbert, Principal, SSG
Yuill Herbert is a co-founder and principal of the Sustainability Solutions Group, a climate planning consultancy that has designed climate action plans and conduction emissions analyses for more than 80 municipalities, ranging from City of Toronto and City of Vancouver. Yuill led the development of some of the first carbon budgets in North America for the City of Edmonton, the Region of Durham, and the Town of Whitby.
Panel 2: Creative Solutions for Decarbonizing Transportation

Time and format: 12:00pm UK time, in-person and live broadcast
Overview: How can cities quickly and effectively decarbonize transportation? This session will explore novel solutions beyond electric vehicles and transit planning, such as Clean Air Zones, car shares, and decreasing last mile shipping emissions with electric cargo bikes.
Speakers:
Stephen Arnold, Head of Clean Air Zone, Birmingham City Council
Stephen is Birmingham City Council's Head of Clean Air Zone and is responsible for its delivery and operation.  The introduction of the zone is just one of the measures that the Council is taking to improve air quality across the whole of the city as part of its Brum Breathes initiative.  Importantly, the Clean Air Zone is seen as an enabler of a number of other changes in the city which include encouraging more people to adopt active modes of travel and public transport, especially for shorter journeys.
Jack Skillen, Placeshaping Director, Team London Bridge
Jack has worked for 15 years in fields of urban regeneration and sustainable transport since completing his MSc in Cities, Space and Society. He is focused on achieving the placeshaping strategy for the London Bridge BID, including a vision for cycling, the 'Low Line'–London's new walking destination–and a sustainability strategy to make London Bridge one of the greenest and most civic minded business districts in the world.
Ben Knowles, CEO of Pedal Me
Ben Knowles is currently Rider and CEO of Pedal Me – the world leading cargo bike operator, transporting people and their goods around London, outcompeting motor vehicle based logistics for the vast majority of urban movements.  Before this he was a transport planner and worked on a variety of projects – including leading on introducing School Streets to London.
Panel 3: Taking Retrofits to Scale

Time and format: 1:30pm UK time, in-person and live broadcast
Overview: In order to achieve net zero, cities must retrofit virtually all existing buildings for energy efficiency. This panel will explore novel approaches to retrofitting en masse and at scale, while keeping equity in mind.
Speakers:
Marianne Heaslip, Associate Principal, URBED
Marianne is an architect and Associate Principal at URBED with interests in urban design, sustainability and participative design. She holds an MSc in Advanced Environment and Energy Studies from the Centre for Alternative Technology, and is a Certified Passive House Designer. Marianne has more than a decade of experience on live retrofit projects and is also involved in the development of policy and tools to support better retrofit. Much of this work is carried out in collaboration with Carbon Coop, through the development of tools like Home Retrofit Planner and projects like the Community Green Deal. This wealth of experience now informs the People Powered Retrofit service, designed to support individuals in the retrofit of their homes. She also delivers training, development work and design work for a variety of community energy and community-led housing organisations, whilst working on scaling up retrofit in social housing – from TSB Retrofit for the Future, through work with housing associations and local authorities across the country to achieve real world decarbonisation and user-friendly outcomes.
Michael McLaughlin, Digital Lead, HACT
Michael joined HACT in January 2020, having previously accrued 16 years' experience in various social housing roles, much of which has involved developing and managing Digital strategy and policy.  Having lead a programme on measuring impact of social housing for Scottish Federation of Housing Associations (SFHA), which uses the wellbeing approach to social value aligned to the UN Sustainable Development goals, Michael has a keen interest on the the ways in which this can be increased within communities. He currently leads HACT's sector-leading UK Housing Data Standards initiative environmental module to create a common dictionary, model, and process of data exchanges, and recently co-authored a paper on The Impact of Social Housing: Economic, Social, Health and Wellbeing.
Panel 4: Mobilizing Communities for a Just Transition

Time and format: 2:30pm UK time, in-person and live broadcast
Overview: Broad public support is key to climate action. In addition, local communities can invest in and help cities advance climate action. This session will examine how communities can get involved with climate action from planning through to implementation.
Speakers:
Dirk Vansintjan, President, European Federation of Citizen Energy Co-operatives, REScoop.eu
Dirk Vansintjan is an expert on community energy who has been working in the renewable energy sector since 1985. He is the Co-founder and President of REScoop.eu, the European renewable energy cooperative federation. He is also the Co-founder and a board member of REScoop Vlaanderen, the Flemish federation for renewable energy cooperatives and the Co-founder and Vice-president of REScoop.be, the Belgian federation for renewable energy cooperatives. He has also co-founded Molenforum-Vlaanderen, a federation of mill conservation societies in Flanders, as well as ODE-Vlaanderen and Ecopower, a renewable energy cooperative in Flanders that has 60 000 members and supplies 1.6% of Flemish households with green electricity.
Jonathan Atkinson, Co-founder, Carbon Co-op
Since completing a degree in Environmental Biology, Jonathan Atkinson's career has crossed boundaries and disciplines. He worked at two research co-ops, Ethical Consumer Magazine and Corporate Watch and in 2002  co-founded UHC Collective, a multidisciplinary art and design project. Jonathan's interests lie at the point where urban development, art, community and politics meet. Throughout his career he has explored the potential for co-operative and collective action to create change. He is a co-founder of Carbon Co-op, a board member and staff member,  developing and project managing innovative, new low-carbon projects.
Sal Wilson, Stokey Energy
Sal worked as an architect for 10 years before training as an environmental designer at Atelier Ten, where she gained experience in a wide range of sustainability strategies. She tutors sustainable design in London at the Bartlett and the Architectural Association, and has been involved in editing the recently launched LETI Retrofit guide. Sal has been working with Stokey Energy, a local community energy group based in Hackney in London, as the group works to establish its presence in the community and seek out opportunities to reduce carbon at multiple scale across the neighbourhood.
Session 5: Open Space – Participatory Discussion on Accelerating Climate Action
Time and format: 2:30pm UK time, in-person only
Overview: What is the best way for cities to rapidly decarbonize with the resources they have at hand? How can cities and local governments accelerate climate action in the climate emergency? Summit participants will be invited to propose topics for discussion in breakout sessions facilitated by the summit organizations. The outcome of this session will inform the development of a City Climate Action Handbook that documents the insights from the summit.
Closing Reception With Bill McKibben and Tenzin Choegyal

Time and format: 5:15pm – 7:00pm UK time, in-person only
Overview: We will wrap up the Cities Taking Rapid Climate Action Now Summit with an evening reception, featuring a keynote speech by renowned climate activist Bill McKibben and tunes by the award-winning musician Tenzin Choegyal. If you would like to only attend the reception, sign up here.
Featured guests: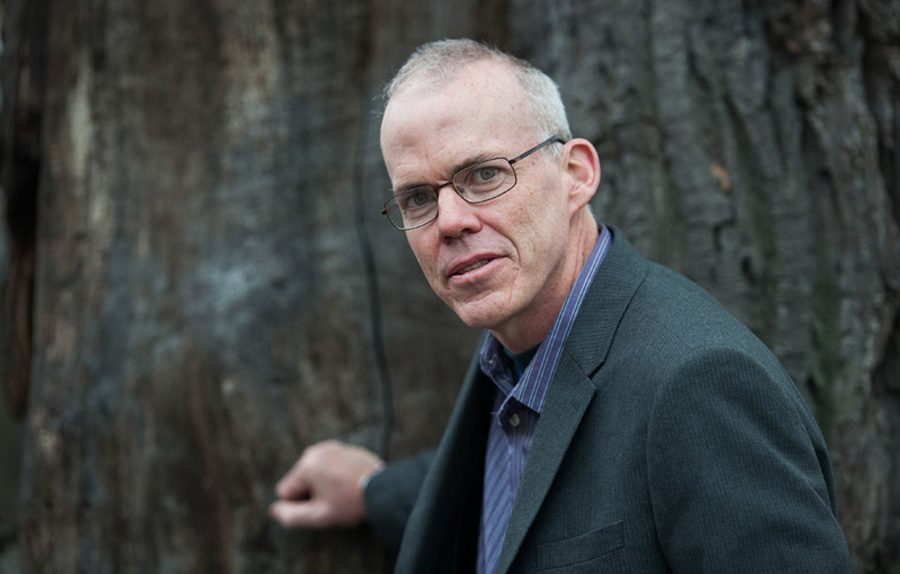 Bill McKibben, Founder, 350.org
A man who needs no introduction: Bill has been a part of the climate movement for decades, writing multiple books since The End of Nature in 1989, and going on to found 350.org. He is an environmentalist, author, activist, and journalist who was awarded the Gandhi Peace Award in 2013, is the Schumann Distinguished Scholar at Middlebury College, and has been named one of the most influential people by Foreign Policy magazine, MSN, the Boston Globe, and many others.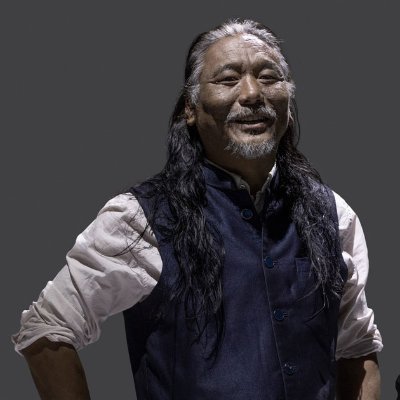 Tenzin Choegyal, Grammy-nominated Tibetan/Australian Artist
Tenzin is a Tibetan/Australian artist, composer, activist, musical director and cultural ambassador. While proudly continuing the unbroken nomadic lineage which is central to his music, Tenzin also embraces opportunities to take his music into more contemporary, uncharted territory, both in the studio and on stage.
Tenzin has nine independent albums, three of them with his fusion band Tibet2Timbuk2, and regularly performs with Camerata Brisbane's acclaimed Chamber Orchestra. His collaborative albums include The Last Dalai Lama? with Philip Glass and the 2021 Grammy-nominated Songs from the Bardo with Laurie Anderson and Jesse Paris Smith – a moving interpretation of the Tibetan Book of the Dead.
https://www.ssg.coop/wp-content/uploads/2021/10/COP26Graphic_square_v1.png
533
660
SSG
https://www.ssg.coop/wp-content/uploads/2015/01/ssg_logo-e1677266550975.png
SSG
2021-10-26 17:34:49
2021-11-03 05:46:46
Join Us For Our Summit: Cities Taking Rapid Climate Action Now