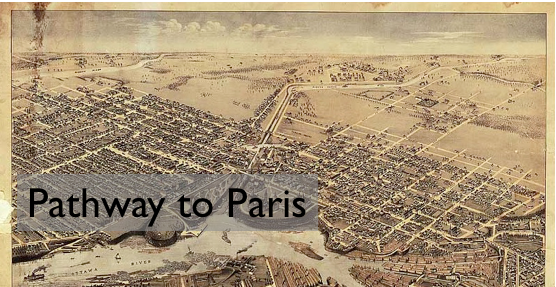 Announcing a biweekly climate briefing from SSG 
In December 2015, the world's leaders will gather in Paris, France to finalise negotiations for an ambitious global agreement that limits the world to a less than a two degree Celsius rise in global temperature. Many believe it is the most significant global negotiation with towns and cities having a critical role to play.
"Local government is where the rubber hits the road when it comes to responding to the human impacts of climate change. We fully support funding for cities, towns and municipalities for their registered adaptation actions."  Margareta Wahlström, The Special Representative of the UN Secretary General for Disaster Risk Reduction.
What does this mean for municipalities?
Many municipalities in Canada have completed climate action or community energy plans and have established GHG emissions reductions targets. The Paris negotiations lend new urgency to those efforts, a new opportunity to reengage, reframe, reconsider and reinvigorate.
What you will receive?
Over the next year, SSG will investigate and enquire to provide you with the answers to the key climate change questions municipalities are asking:
• What and what else can my community do to reduce GHG emissions?
• How can my community engage in the negotiations?
• What are other communities committing to do?
• What are other sectors of society doing?
• What are the highlights of key reports on climate change science, investment, energy technologies that will be released in the run-up to the Paris meeting?
We will deliver this information through a biweekly newsletter, periodic webinars and e-dialogues. During UN negotiations in Lima (December, 2014) and Paris (December, 2015), we will provide a live stream of developments through @SSG_News and a digest in the newsletter. Our goal is to empower municipalities, counties and regional districts in transitioning to a low carbon existence.
Who should pay attention to this?
Municipal, County and Regional District staff, elected officials.
What should you do now?
Sign up here for the newsletter and share with colleagues.
What is the Pathway to Paris initiative?
Pathway to Paris is a unique endeavour that bridges several of SSG's key areas of focus: municipalities, cooperatives and the cultural industries*. We are building bridges between each of these areas to confront one of the greatest challenges we have ever faced: climate change.
Why are we doing this?
SSG is a workers cooperative; one of the seven principles of cooperation is concern for community. This is our effort to manifest that principle.
*************************
There are discussions happening at a high level that affect every single person on this planet, to step up and be responsible for their impact on their local environment. As a municipality, who also represents you and I, we encourage you to pay attention to our feed over the next year. Not only to keep abreast of the decisions that affect you, but to have a foot in where there is opportunity to thrive.. and dare we say it, have fun. Join now!
*"The cultural shift required to build sustainable cultures will require the engagement of our best creative minds to address the causes of climate change and envisage, design and communicate resilient futures. The aim is to challenge, provoke and inspire audiences to think differently about our relationship with each other and the natural systems we inhabit." Cape Farewell, 2014
https://www.ssg.coop/wp-content/uploads/2015/05/Screen-Shot-2014-10-23-at-18.33.58.png
287
556
Jeremy Murphy
https://www.ssg.coop/wp-content/uploads/2015/01/ssg_logo-e1677266550975.png
Jeremy Murphy
2014-10-31 07:44:39
2015-08-07 11:19:29
Announcing a biweekly climate briefing from SSG