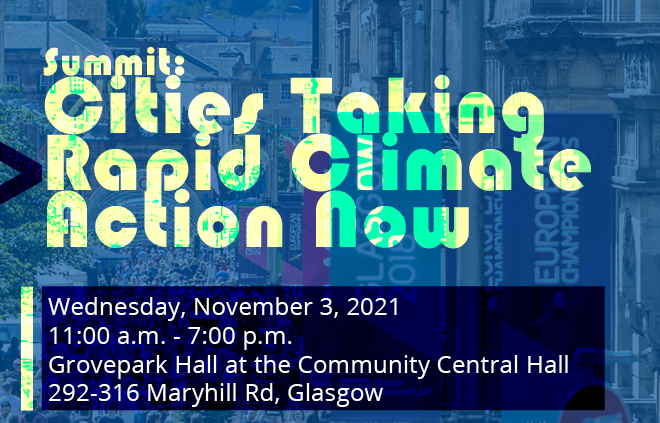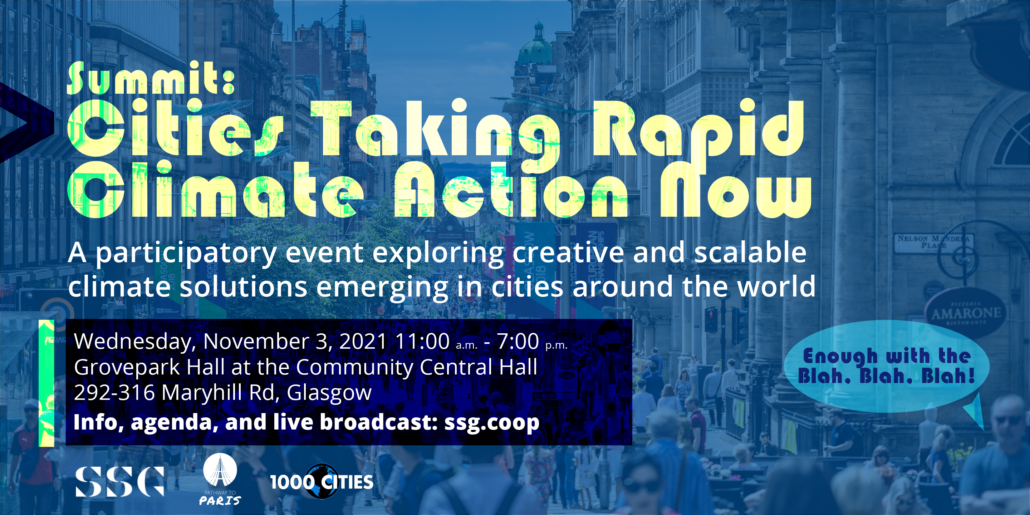 Enough talk! It's time to act. Join us on Wednesday, November 3, on the sidelines of COP in Glasgow to explore how cities are quickly and effectively moving from planning to implementing climate action. Our Summit—Cities Taking Rapid Climate Action Now—will bring together urban climate action leaders to explore what more municipalities and local governments can do to accelerate climate action. To register to join us in-person or virtually, sign up for a ticket on eventbrite. More details about the event, including the speakers and schedule, are provided below.
Lunch and snacks will be provided to those attending in Glasgow. The event will end with a reception featuring special musical guests.
Summit Overview
As the impacts of climate change accelerate, cities must urgently move from declaring climate emergencies to taking climate action. Join us for a series of panel discussions and participatory problem-solving sessions in which we will hear from cities that have effectively moved from planning to implementation, as well as urban climate action experts from Sustainability Solutions Group and beyond. We will explore transformational moves, as well as creative and scalable solutions, including carbon budgets, rapid multi-building retrofits, and clean air zones. We will learn about what is effective and working, and discuss how to create an accelerated response to climate change at the local level.
A special focus of the Cities Taking Rapid Climate Action Now Summit will be 1,000 Cities for Carbon Freedom, a project and report focused on climate action best practices from UK Cities.
Summit Schedule and Speakers
Panel 1: Carbon Budgets: Accounting for A Net-Zero Future

Time and format: 11:00am UK time, in-person and live broadcast
Overview: This panel will explore how cities are using carbon budgets as an accountability mechanism and tool to align municipal and community actions with climate action goals. Come and gather insights into how you can implement a carbon budget in your community!
Speakers:
Andrea Fernandez, Director of Climate Planning, Finance, and Partnerships, C40
Yuill Herbert, Principal, SSG
Panel 2: Creative Solutions for Decarbonizing Transportation

Time and format: 12:00pm UK time, in-person and live broadcast
Overview: How can cities quickly and effectively decarbonize transportation? This session will explore novel solutions beyond electric vehicles and transit planning, such as Clean Air Zones, car shares, and decreasing last mile shipping emissions with electric cargo bikes.
Speakers:
Stephen Arnold, Head of Clean Air Zone, Birmingham City Council
Jack Skillen, Placeshaping Director, Team London Bridge
Luke Murphy, Head of the Environmental Justice Commission, The Progressive Policy Think Tank
Panel 3: Taking Retrofits to Scale

Time and format: 1:30pm UK time, in-person and live broadcast
Overview: In order to achieve net zero, cities must retrofit virtually all existing buildings for energy efficiency. This panel will explore novel approaches to retrofitting en masse and at scale, while keeping equity in mind.
Speakers:
Marianne Heaslip, Associate Principal, URBED
Michael McLaughlin, Digital Lead, HACT
Panel 4: Mobilizing Communities for a Just Transition

Time and format: 2:30pm UK time, in-person and live broadcast
Overview: Broad public support is key to climate action. In addition, local communities can invest in and help cities advance climate action. This session will examine how communities can get involved with climate action from planning through to implementation.
Speakers:
Dirk Vansintjan, President, European Federation of Citizen Energy Co-operatives
Jonathan Atkinson, Co-founder, Carbon Co-op
Session 5: Open Space – Participatory Discussion on Accelerating Climate Action
Time and format: 2:30pm UK time, in-person only
Overview: What is the best way for cities to rapidly decarbonize with the resources they have at hand? How can cities and local governments accelerate climate action in the climate emergency? Summit participants will be invited to propose topics for discussion in breakout sessions facilitated by the summit organizations. The outcome of this session will inform the development of a City Climate Action Handbook that documents the insights from the summit.
Closing Reception With Special Musical Guests
Time and format: 5:15pm – 7:00pm UK time, in-person only
http://www.ssg.coop/wp-content/uploads/2021/10/COP26Graphic_square_v1.png
533
660
SSG
http://www.ssg.coop/wp-content/uploads/2015/01/ssg_logo.png
SSG
2021-10-26 17:34:49
2021-10-26 20:28:54
Join Us For Our Summit: Cities Taking Rapid Climate Action Now